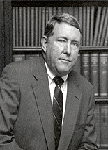 E. Gerald Corrigan, a veteran of the Federal Reserve System, became chief executive officer of the New York Fed and vice chairman of the FOMC on January 1, 1985 at the age of 43.
Prior to his appointment, Mr. Corrigan was president of the Minneapolis Federal Reserve Bank for four and a half years.
Mr. Corrigan was born in June 1941 in Waterbury, Connecticut. He earned a bachelor of social sciences degree in economics from Fairfield University, Fairfield, Connecticut in 1963. He received a master of arts degree in 1965 and a doctor of philosophy degree in 1971, both in economics, from Fordham University.
His career at the New York Fed began in 1968 when he joined the domestic research division as an economist, after teaching at Fordham University in 1967-68. From 1968 to 1979 he served in a variety of staff and official positions including vice president for planning and domestic open market operations.
In August 1979, he went on leave from the Bank to become special assistant to Federal Reserve Board Chairman Paul Volcker in Washington, DC. While there, he was named chairman of the Basle Committee on Banking Supervision by the governors of the central banks of the Group of Ten countries. The Committee provides a forum for regular cooperation among its member countries on banking supervisory matters.
Mr. Corrigan was instrumental in establishing, and also served as co-chairman of, the Russian-American Banking Forum. This organization was set up in June 1992 to assist Russia in the development of its banking and financial system infrastructure.
After nearly 25 years of service in the Federal Reserve System, Mr. Corrigan stepped down as president of the New York Fed on July 19, 1993. In July 1993, President Clinton appointed Mr. Corrigan to head the newly established Russian-American Enterprise Fund.