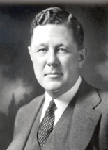 George L. Harrison became chief executive officer of the Bank at the age of 41, following the death of Governor Strong. He held this position for 13 years, first as governor and then as president when the title changed in accordance with the Banking Act of 1935. Mr. Harrison directed the Bank through the 1929 stock market crash, the Banking Holiday of 1933, and major revisions in the Reserve System's organization and operations in 1935. He was also instrumental in solving many of the Federal Reserve's foreign relations problems.
After earning degrees from Yale and Harvard Law School, the native San Franciscan became legal secretary for one year to U.S. Supreme Court Justice Oliver Wendell Holmes.
He joined the Federal Reserve Board in Washington in the fall of 1914, two weeks before the opening of the 12 Reserve Banks, and served as the Board's general counsel prior to coming to the New York Fed as deputy governor in 1920.
Mr. Harrison left the bank in 1940 to become president of the New York Life Insurance Company. He died in 1958.