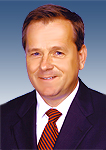 William T. Christie is the executive vice president of the Technology Services Group of the Federal Reserve Bank of New York. He is also a member of the Bank's Management Committee.
The Technology Services Group, the technology and operations backbone of the Bank, consists of Application Development, which manages a portfolio of more than 400 diverse applications;  Technology Engineering and Computing Services (TECS), which provides and supports end-user computing, mobile and remote access services; Information Security, which coordinates initiatives and provides services that seek to ensure protection of the Bank's information assets; Technology Strategy/Client Engagement, Governance and Project Management.  The Group also provides national information security, incident response and national remote access services for the Federal Reserve System.
Prior to joining the Federal Reserve, Mr. Christie was director of information systems and chief information officer for Commerce Bank. 
Mr. Christie's prior experience included ten years of employment at Bank of America/MBNA America.  Most of his tenure there was with MBNA (acquired by Bank of America in 2005), where he served as a senior executive vice president.
Mr. Christie began his career working for IBM as an application developer.  His spent 13 years at IBM, leaving as a certified client/server specialist.  Prior to IBM, Mr. Christie served for three years in the United States Army.
Mr. Christie received a master's degree in information systems management from Marist College in 1989 and a bachelor's degree in computer science from St. John's University in 1983.
Mr. Christie enjoys playing golf, watching his beloved New York Mets and chasing after Anika, his beautiful Viszla. He is actively involved with the efforts of Covenant House, Marist College and St. John's University.
March 2015