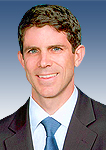 Brian P. Sack is an executive vice president at the Federal Reserve Bank of New York and a senior advisor to the president. As a senior advisor, Mr. Sack will provide analytical expertise and guidance with respect to monetary policy, financial markets and the U.S. economy.
Before serving as special advisor, Mr. Sack was head of the New York Fed's Markets Group and manager of the System Open Market Account for the Federal Open Market Committee (FOMC).
Prior to joining the Bank in 2009, Mr. Sack was a vice president at Macroeconomic Advisers and the deputy director of the Monetary Policy Insights service offered by that firm. In that capacity, Mr. Sack conducted extensive analysis of the interactions between Federal Reserve policy actions, financial markets and the U.S. economy. Prior to joining Macroeconomic Advisers in 2004, Mr. Sack was the head of the Monetary and Financial Markets Analysis section at the Board of Governors of the Federal Reserve System. His responsibilities in that role included preparing materials on financial market developments for the FOMC and briefing Board Members about those developments. Mr. Sack has also published a number of research articles in top academic journals in the fields of economics and finance.
Mr. Sack received his doctorate in economics from the Massachusetts Institute of Technology in 1997 and a bachelor's degree from the University of Vermont in 1992.
July 2012