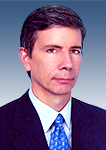 Joseph Tracy is executive vice president and a senior advisor to the president at the Federal Reserve Bank of New York. Mr. Tracy specializes on issues related to housing and household credit.
Prior to his current role, Mr. Tracy was head of the Research and Statistics Group, a position he held from 2004 to 2009. He was promoted to executive vice president in December 2004. Mr. Tracy had been senior vice president since January 2003 and had served as the senior administrative officer for the research function since June 2002.
Mr. Tracy joined the Bank as a research officer in August 1996 and was assigned to the domestic research department. He was promoted to assistant vice president in December 1997 and in July 1999, he was promoted to vice president with responsibility for domestic research function and assumed additional responsibility for the research support function in March 2000.
Before joining the Bank, he was an associate professor of economics at Yale University from July 1986 to June 1992 and at Columbia University from July 1992 to June 1996.
Mr. Tracy holds a bachelor's degree in political economy from the University of Missouri and a doctorate in economics from the University of Chicago.

January 2014