Household Debt and Credit
Total Debt Balance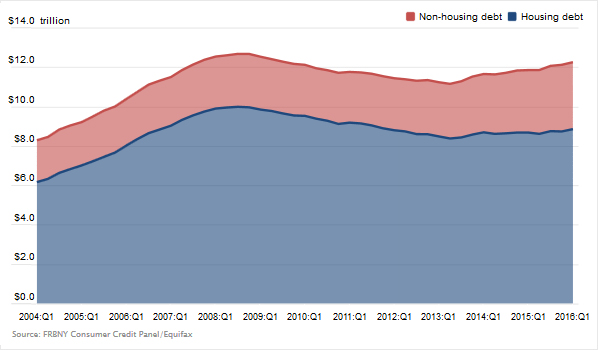 Survey of Consumer Expectations
The Federal Reserve Bank of New York today released findings from the 2016 SCE Housing Survey. The release indicates that home price growth expectations have declined somewhat relative to last year, but the majority of households still view housing as a good financial investment. Mortgage rate expectations have also declined since last year's survey, and renters now perceive that it has become somewhat less difficult to get a mortgage if they wanted to buy a home. This latest survey marks the third installment of the Survey of Consumer Expectations Housing Survey, which has been fielded annually every February since 2014. With this release the New York Fed is also unveiling a new SCE Housing Survey interactive web feature.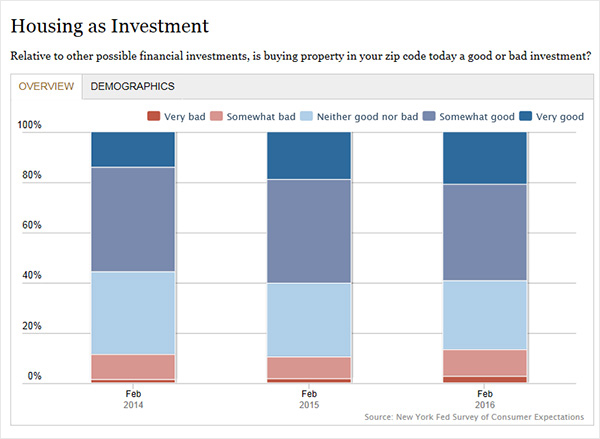 Survey of Consumer Expectations
The October 2016 release shows a deterioration in consumers' experiences in the credit market compared to the June release, with a small increase in the proportion of "discouraged" and "rejected" credit applicants. Rejection rates increased, returning to levels last seen in February 2015. The increase in rejection rates was observed for all credit types but was particularly large for applications for credit cards and credit card limit increases, and for mortgage refinancing. The expectations component of the survey also declined relative to the June findings. The proportion of respondents likely to apply for at least one type of credit over the next 12 months decreased again and reached a three-year low. Consumers are also somewhat more pessimistic about future approval rates for credit card and auto loan applications. On the other hand, the perceived likelihood of new mortgage loan and refinancing applications being rejected declined notably.