Survey of Consumer Expectations
Results from the September 2016 Survey of Consumer Expectations painted a mixed picture of future expected economic conditions. Inflation expectations declined at both the short-term and the medium-term horizons. Earnings growth expectations declined and job loss expectations worsened, but job finding expectations improved. On the household finance front, income growth expectations retreated somewhat but spending growth expectations rose and credit availability perceptions and expectations improved.
Household Debt and Credit
Total Debt Balance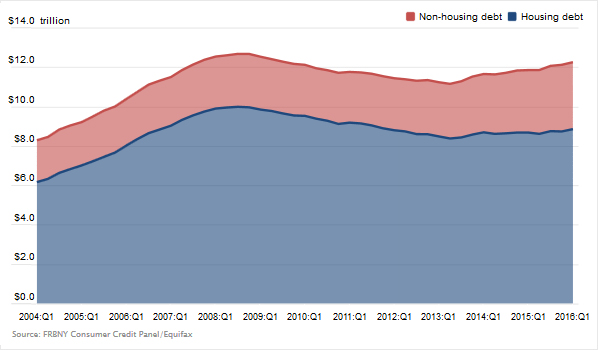 Survey of Consumer Expectations
The June 2016
SCE Credit Access Survey
shows an improvement in consumers' experiences in the credit market compared to the February release, with a decline in the proportion of "discouraged" and "rejected" consumers. Rejection rates declined, reaching the series' low. The drop in rejection rates was observed for all credit types except housing-related debt applications. The expectations component of the survey was somewhat more subdued, relative to our February reading. The proportion of respondents likely to apply for at least one type of credit over the next 12 months decreased slightly. Moreover, consumers are somewhat more pessimistic of future approval rates. The perceived likelihood of credit applications being rejected rose for nearly all credit types, with the most notable increase for mortgage applications.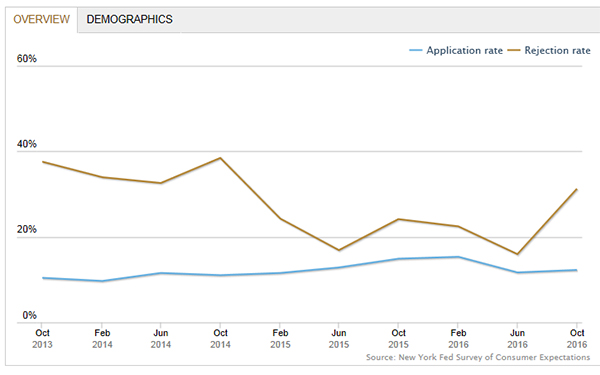 Survey of Consumer Expectations
The Federal Reserve Bank of New York today released findings from the 2016 SCE Housing Survey. The release indicates that home price growth expectations have declined somewhat relative to last year, but the majority of households still view housing as a good financial investment. Mortgage rate expectations have also declined since last year's survey, and renters now perceive that it has become somewhat less difficult to get a mortgage if they wanted to buy a home. This latest survey marks the third installment of the Survey of Consumer Expectations Housing Survey, which has been fielded annually every February since 2014. With this release the New York Fed is also unveiling a new SCE Housing Survey interactive web feature.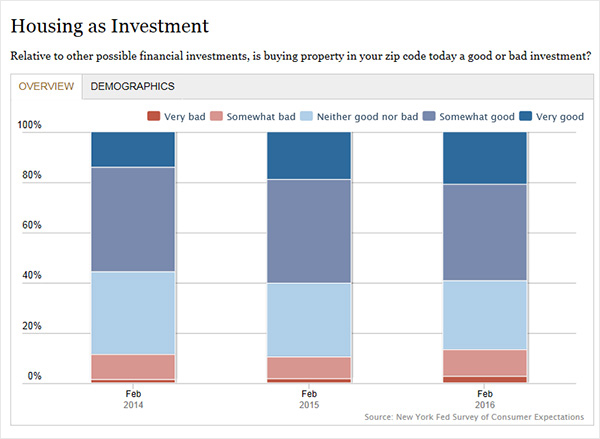 Research Event
A conference sponsored jointly by the New York Fed and the ESRC Research Centre on Micro-Social Change puts the focus on research analyzing subjective expectations. The papers presented will cover issues related to measurement, expectation formation, learning, use of expectations in structural models, belief biases, and the relationship between expectations and behavior. Northwestern's Charles Manski and Harvard's Matthew Rabin will lead plenary sessions. Link to the
agenda
for more information and many of the papers.