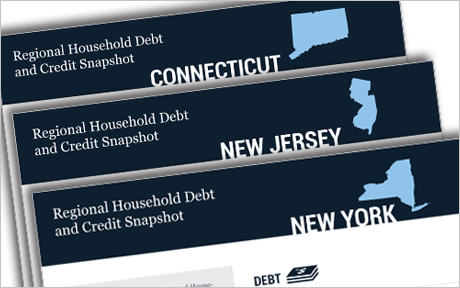 The Regional Household Debt and Credit Snapshots provide an overview of trends in borrowing and indebtedness at the state and local level in the Second District. They include data about mortgages, student loans, credit cards, auto loans, home equity lines of credit (HELOC) and delinquencies. The Snapshots below reflect data through December 2018 and are updated twice a year. Data for additional regions are included in the full data set below.
Findings from this series of Snapshots include:
Consumer distress rates in the region remain below the national rate of 17.2 percent in 2018 Q4. In New York, 12.8 percent of consumers were at least 90 days late on any loan type or had a third-party collections balance in the last year, compared to 13.9 percent in New Jersey and 13.5 in Connecticut. Consumer distress continues to fall in almost every region in the district. Consumer distress rates include third-party collection prevalence, and changes in collections reporting regulations have resulted in improved distress rates overall.
The percent of borrowers who were at least 90 days late on their student loans remains well below the national share of 15.6 percent. In New York, 11.6 percent of student loan borrowers were at least 90 days past due, below the 12.6 percent in Connecticut and 12.7 percent in New Jersey.
New delinquency rates for all debt products also remain below the national rate of 4.8 percent in most regions. The share of borrowers with any new delinquent debt was above the national rate at 7.6 percent in the Bronx and at 5.0 percent in Rochester.
Among student loan borrowers, average balances continued to rise in the region. Average student debt was $34,600 in New York, $32,800 in Connecticut, and $33,600 in New Jersey, all above the national average of $32,700.
Although average mortgage balances increased across the region in 2018 Q4, the number of borrowers with mortgage debt fell. Average mortgage debt was $161,400 in New York, $161,300 in New Jersey, and $154,000 in Connecticut, well above the national average of $133,300.
Download Snapshots
All documents below in PDF format.

Binghamton (data in Excel)
Elmira (data in Excel)
Glens Falls (data in Excel)
Ithaca (data in Excel)
Kingston (data in Excel)
North Country (data in Excel)
Utica (data in Excel)
Watertown (data in Excel)