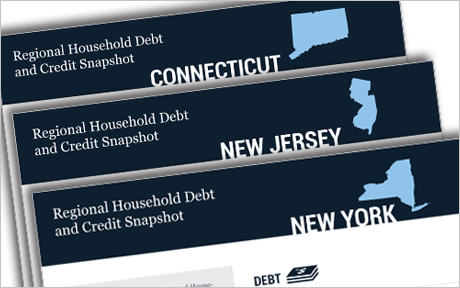 The Regional Household Debt and Credit Snapshots provide an overview of trends in borrowing and indebtedness at the state and local level in the Second District. They include data about mortgages, student loans, credit cards, auto loans, home equity lines of credit (HELOC) and delinquencies. The Snapshots below reflect data through December 2016 and are updated once a year.
Findings from this series of Snapshots include:
Consumer distress rates in the region remain below the national rate of 18.7 percent. In New Jersey, 15.2 percent of consumers are at least 90 days late on any loan type or had a third party collections balance in the last year, compared to 13.7 percent in New York and 14.4 percent in Connecticut.
Student loan delinquency rates in the region are also well below the national rate of 15.6 percent. In New York, 12.1 percent of student loan borrowers are at least 90 days late, compared to 13.0 percent in New Jersey and 12.7 percent in Connecticut.
State-level mortgage delinquency rates are above the national average, primarily due to extended mortgage foreclosure timelines. The national delinquency rate of mortgage borrowers is 1.8 percent, compared to 2.7 percent in New York, 3.1 percent in New Jersey and 2.3 percent in Connecticut. Compared to the previous Snapshots series, the serious delinquency rates for mortgage borrowers declined between 0.7 and 1.5 percentage points.
More than one in five consumers in the Bronx face some type of consumer distress, as the borough leads all other New York City localities in serious delinquency rates for mortgages, student loans, auto loans and credit cards.
Average mortgage balances in upstate New York were significantly lower than the state and national averages, at $151,400 and $124,600, respectively. In contrast, the average balance in more southern New York areas was near or above the state average.
Although mortgage borrowing rates in northern New Jersey and the nation are similar, mortgage balances in northeastern New Jersey are significantly higher ($183,200 compared to $124,600).
Download Snapshots
Updated May 2017 with Q4 2016 data. All documents in PDF format.

Download the full data set.