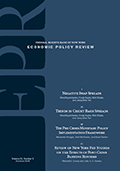 The Review is a policy-oriented journal focusing on macroeconomic, banking, and financial market topics. It publishes new research by Federal Reserve Bank of New York economists, papers by affiliated economists, and the proceedings of Bank-sponsored conferences.

Kenneth D. Garbade is the series editor;
Meta Brown, Richard Crump, Marco Del Negro, Jan Groen, Andrew Haughwout, and Stavros Peristiani are coeditors.