Empire State Manufacturing Survey
The monthly survey of manufacturers in New York State conducted by the Federal Reserve Bank of New York.
March 2010 Report

Survey Indicators
Seasonally Adjusted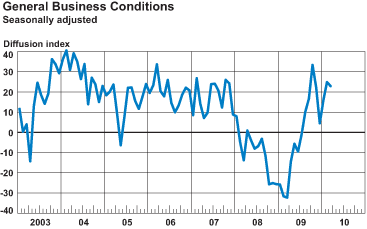 The Empire State Manufacturing Survey indicates that conditions for New York manufacturers continued to improve at a steady pace in March. The general business conditions index remained near its February level, at 22.9. The new orders index rose sharply, and the shipments index climbed as well. The inventories index rose above zero for the first time in considerably more than a year. The indexes for both prices paid and prices received were positive and close to last month's levels. Employment indexes climbed further into positive territory, suggesting that employment levels are on the rise. Future indexes conveyed continued optimism about the six-month outlook, with manufacturers expecting business conditions to improve further in the months ahead.
In a series of supplementary questions, firms were asked about recent changes in their borrowing needs, perceived changes in credit availability, and the causes and effects of such changes (see Supplemental Reports tab). Manufacturers generally reported steady to declining borrowing needs over the past year: 28 percent said their borrowing needs had decreased in the past year, while 19 percent said they had decreased over the past three months. In response to questions on recent changes in credit availability, 24 percent of firms reported some tightening over the past year—down noticeably from 39 percent in a similar survey conducted last October—while just 11 percent noted some easing, about the same percentage as in October's survey. A related question about such changes over the past three months showed 17 percent of firms noting tighter credit standards and 13 percent noting easier credit. Respondents also reported rising borrowing costs and steady to declining limits on existing lines of credit.
Business Activity Continues to Pick Up; Inventories Grow
Business activity remained strong in March as the general business conditions index posted its eighth consecutive positive reading. The index, at 22.9, remained close to its February level, with 43 percent of respondents reporting that conditions had improved over the month and 20 percent reporting that conditions had worsened. The new orders index shot up 17 points to 25.4, indicating that the pace at which orders were being placed had quickened significantly over the month. The shipments index advanced 10 points to 25.6, and the unfilled orders index held steady at 4.9. The delivery time index increased to 2.5. The inventories index climbed above zero for the first time in considerably more than a year, reaching 4.9—a sign that inventory levels are now rising slightly for New York State manufacturers.
Employment Expands
Price indexes were little changed from last month. The prices paid index had climbed in December and January, and subsequently hovered around 30. In March, the index was 29.6, with 32 percent of respondents reporting higher prices and just 2 percent reporting lower prices. After rising above zero in January and edging up to 4 in February, the prices received index increased 4 points more to 8.6, with 17 percent of firms reporting higher selling prices and 9 percent reporting lower selling prices. Employment indexes climbed, suggesting that employment is continuing to expand. The index for number of employees advanced 7 points to 12.4, its highest level in more than two years, with 20 percent of respondents indicating that employment levels had risen in March and just 7 percent indicating that employment had fallen. The average workweek index climbed to 12.4.
Six-Month Outlook Continues to Be Upbeat
Future indexes strongly suggested that New York manufacturers expect conditions to improve further in the months ahead. The future general business conditions index rose to 54.3, with 64 percent of respondents anticipating better conditions over the next six months. The future new orders index held at a similar level. Although the future shipments index dipped 12 points, it remained at a fairly high level. Prices were expected to climb—the future prices paid index was relatively high at 42.0, and the future prices received index was 17.3. Future employment indexes were positive, suggesting that employment levels are expected to climb, but both the future number of employees and future average workweek indexes fell roughly 10 points. The capital expenditures index held steady at 27.2, and the technology spending index rose inched up to 13.6.