April 2010 Report

Survey Indicators
Seasonally Adjusted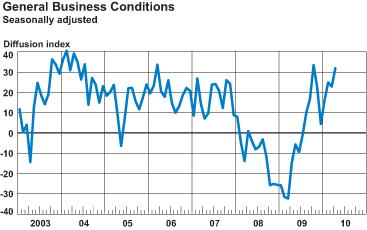 The Empire State Manufacturing Survey indicates that conditions for New York State manufacturers improved at a rapid pace in April. The general business conditions index rose 9 points, to 31.9. The new orders and shipments indexes advanced as well, and the inventories index climbed to a record high. The prices paid index moved up 12 points to 41.8, its highest level in considerably more than a year, while the prices received index held fairly steady at a level just above zero. Employment indexes rose to high levels, suggesting that employment levels are continuing to improve. Future indexes conveyed an ongoing sense of optimism about the six-month outlook.
In a series of supplementary questions, respondents were asked to assess the extent to which certain business issues posed problems for their firms, whether each of these issues was more or less of a problem now than a year ago, and whether each was expected to become more or less of a problem over the next year. Of the ten issues considered, employee benefit costs, taxes, and government regulation were generally seen as the biggest problems—both in absolute terms and compared with a year ago. Moreover, these same issues were the ones most widely expected to be still more problematic a year from now. At the other end of the spectrum, the cost and terms of credit, credit availability, and depressed real estate values were seen as the least problematic issues.
Activity Expands Rapidly, Inventories Climb
Business activity expanded rapidly in April for New York State manufacturers. The survey's general business conditions index climbed 9 points to 31.9, a level close to the multiyear high reached in October 2009. Nearly half of survey respondents reported that conditions had improved over the month, while just 16 percent reported that conditions had worsened. The new orders index also climbed, rising 4 points to 29.5. The shipments index advanced 7 points to 32.1, while the unfilled orders index fell back below zero for the first time since December. The delivery time index held steady at 2.5. Respondents reported that inventories expanded in April: the inventories index rose to 11.4, a record high. The index has moved up nearly 30 points since January, and has now been positive for two consecutive months.
Prices and Employment Continue to Rise
Input price pressures intensified in April. The prices paid index climbed 12 points to 41.8, its highest level since late 2008, with 46 percent of respondents reporting higher prices and just 4 percent reporting lower prices. The prices received index, at 6.3, was little changed from last month. The index for number of employees posted a significant gain, suggesting that employment levels are continuing to rise for New York's manufacturers. The index rose 8 points to 20.3, its highest level in more than two years, with 30 percent of respondents reporting higher employment levels over the month. The average workweek index remained in positive territory, holding steady at 13.9.
Six-Month Outlook Continues to Be Bright
Future indexes again conveyed a high level of optimism about the next six months. The future general business conditions index rose slightly, to 55.7, adhering to its relatively high levels of the past several months. Sixty-six percent of respondents expected conditions to improve over the next six months, while just 10 percent expected conditions to worsen. The future new orders index drifted down but, at 46.8, clearly remained elevated. The future unfilled orders index dropped from 16.1 last month to zero. The future prices paid index rose slightly to 43.0, while the future prices received index declined 2 points to 15.2. The future number of employees index was significantly higher, climbing 12 points to 29.1, and the future average workweek index dropped 19 points to -1.3, its first negative reading in two years. The capital expenditures index rose to 31.7, and the technology spending index to 20.3.