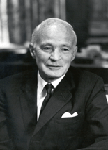 Alfred Hayes was named president of the New York Fed and vice chairman of the FOMC on August 1, 1956, at the age of 46. He came to the Bank from New York Trust Co. where he had been vice president in charge of the foreign division.
Unlike his two immediate predecessors, who had been employees of the System, Mr. Hayes was a product of the city's financial community.
A native of Ithaca, New York, Mr. Hayes spent his freshman year at Harvard College and then transferred to Yale University, where he earned a bachelor of arts degree. Following a year at the Harvard Graduate School of Business Administration, he received a Rhodes Scholarship and spent two years at New College, Oxford, England, studying economics.
He began his banking career in 1933 as an analyst in the investment department of the City Bank Farmers Trust Company. Seven years later, he transferred to the bond department of the National City Bank. In 1942, he joined the New York Trust Co. as an assistant secretary in the investment department.
For two years, Mr. Hayes served as a naval lieutenant in financial planning for military government, and in the office of the Foreign Liquidation Commissioner in Washington and Rome.
He returned to New York Trust in 1946, was promoted to assistant vice president, and in 1947 he was assigned to the foreign division. Between 1949 and 1956 he served as vice president in charge of the division and earned a reputation as an expert in international finance.
Mr. Hayes retired from the New York Fed on August 1, 1975, and joined Morgan Stanley International Inc. as chairman in November 1975. He was named chairman emeritus in 1981.
He died in October 1989.