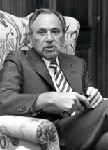 Anthony M. Solomon became president of the New York Fed and vice chairman of the Federal Open Market Committee on April 1, 1980, at the age of 60, capping long service in the federal government.
Mr. Solomon was born in Arlington, New Jersey, on December 27, 1919. He graduated from the University of Chicago with a bachelor's degree in economics in 1941, and soon afterwards joined the American financial mission to Iran.
He entered Harvard University in 1946, and he received a master of arts degree in economics and public administration in 1948.
Mr. Solomon spent the next 10 years in Mexico, first as a publisher, and then as president of a Mexican food company. In 1961, he joined the faculty of Harvard.
He returned to government service two years later as chairman of various missions, and was later appointed deputy assistant secretary of state for Latin America.
From 1965 to 1969, Mr. Solomon was the assistant secretary of state for economic affairs and a member of President Johnson's task force on the reform of the international monetary system.
In 1969, he established the International Investment Corp. for Yugoslavia at the request of Robert McNamara, president of the World Bank. He left in 1972 to become an adviser to the chairman of the U.S. House of Representatives Ways and Means Committee, and assisted in the development of trade legislation.
Mr. Solomon served as undersecretary of the Treasury for monetary affairs from March 1977 to March 1980.
He stepped down as president of the New York Fed on December 31, 1984, upon reaching the retirement age of 65.
January 2008