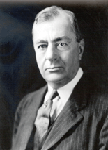 Benjamin Strong Jr. was elected governor of the New York Fed at the Bank's first board meeting on October 5, 1914, six weeks prior to the opening day. He was 41, and then president of Bankers Trust Co. of New York.
During his 14 years in office, his knowledge of the banking history of the United States, coupled with his intense interest in international affairs, made him a dominant force in U.S. monetary and banking affairs.
Throughout the 1920s, Governor Strong promoted more effective cooperation among the world's central banks, and he traveled extensively to carry out this objective.
Born in 1872 in Fishkill-on-Hudson, New York, he embarked on a financial career in 1891 with Cuyler, Morgan and Co., an investment and financial management firm. He later became assistant secretary of Atlantic Trust Co., and following several mergers, he was named secretary of Bankers Trust Co. in 1904. He became vice president in 1909, and president in 1914.
Governor Strong died in 1928 while still chief executive officer of the New York Fed.