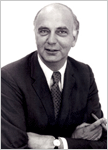 Paul Volcker became president on August 1, 1975, at the age of 47. As president, he also served as vice chairman of the FOMC. Previously he served in a variety of positions with the Treasury, Chase Manhattan Bank, and the New York Fed.
Mr. Volcker was born on September 1927 in Cape May, New Jersey. He earned a bachelor of arts degree, summa cum laude, from Princeton in 1949, and a master of arts degree in political economy and government from the Harvard University Graduate School of Public Administration in 1951. From 1951 to 1952, he was Rotary Foundation Fellow at the London School of Economics.
Mr. Volcker's experience with the New York Fed began when he worked as a research assistant in the research department during the summers of 1949 and 1950. He returned to the New York Fed as an economist in the research department in 1952, and became a special assistant in the securities department in 1955. Two years later, he resigned to become a financial economist at Chase Manhattan Bank.
In 1962, he joined the Treasury as Director of the Office of Financial Analysis, and in 1963 he was appointed Deputy Undersecretary for Monetary Affairs. In 1965, he rejoined Chase Manhattan as vice president and director of forward planning.
From 1969 to 1974, he was Undersecretary of the Treasury for Monetary Affairs. His five-and-a-half-year tenure covered a period of rapid change in international and domestic financial affairs.
After leaving the Treasury, Mr. Volcker became senior fellow at the Woodrow Wilson School of Public and International Affairs at Princeton University for the 1974-75 academic year.
He was named chairman of the Board of Governors of the Federal Reserve System by President Carter, and was sworn in on August 6, 1979. He served until August 11, 1987.