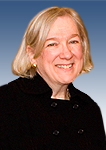 Christine M. Cumming is first vice president of the Federal Reserve Bank of New York, the second ranking officer in the Bank, and serves as its chief operating officer, as well as an alternate voting member of the Federal Open Market Committee.
Prior to being named to her new position Ms. Cumming was executive vice president and director of research with responsibility for the Research and Market Analysis Group. She assumed these responsibilities in September 1999.
From March 1994 until September 1999, she was senior vice president responsible for the Bank Analysis and Advisory and Technical Services Functions in the Bank Supervision Group.
Ms. Cumming joined the Bank's staff in September 1979 as an economist in the International Research Department, and spent several years leading units in Research which covered the industrial countries and the international financial markets. Later, while in the Bank's International Capital Markets staff, she worked on topics such as the liquidity of banks and securities firms, the international competitiveness of U.S. financial institutions, and the implications of financial innovation.
In January 1992, she was appointed vice president and assigned to Domestic Bank Examinations in Bank Supervision. A major focus of Ms. Cumming's work in Supervision involved capital markets issues. While in Supervision, she also was active in the work of the Basel Committee, including participating in the development of the market risk amendment to the Basel Accord and co-chairing the Risk Management Group for two and a half years. She also chaired task forces on supervisory matters for the Joint Forum, made up of banking, securities and insurance regulators.
Ms. Cumming holds both a bachelor's degree and doctorate in economics from the University of Minnesota.

February 2010