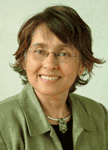 Kausar Hamdani is vice president and Community Affairs Officer. It is the special responsibility of the Community Affairs Office to gather grass-roots intelligence and analyze emerging issues affecting low to moderate income communities in the Second District. Additionally, they convene stakeholders to provide information and technical assistance related to community and economic development.
Prior to this assignment, Ms. Hamdani led the Buffalo Branch of the Federal Reserve Bank of New York and will continue in that capacity for the interim. She is active in community activities and serves on several community, business and academic advisory boards in Upstate New York.
Ms. Hamdani joined the Bank in 1982 as an economist in the Monetary Research Department and has served in several areas including the Bank Supervision Group. Prior to that, she taught economics at Columbia University and New York University.
Ms. Hamdani holds a Ph.D, M.Phil., and M.A. degrees from Columbia University and her B.A. degree from Western College for Women in Oxford, Ohio.

July 2008