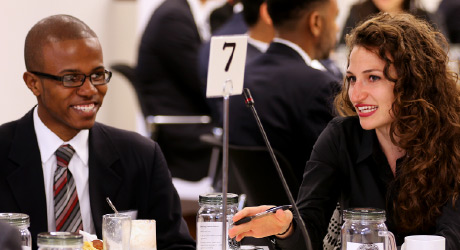 Our virtual summit event will provide students with:
An insider's view of the New York Fed's core mission and responsibilities.
Exposure to senior leaders through virtual panels and interview opportunities.
An exclusive opportunity to interview for a 2021 Summer Associate role
A tool-kit to best position students to be successful in the 2021 Summer Associate Program. 
AUDIENCE
Graduate students who are:
Enrolled in an accredited master's degree granting program
Graduating between December 2021 and May 2022
Maintaining a minimum 3.0 GPA
Have an interest in banking, finance, economics, monetary policy, public service and mission-based work

Program Details
Virtual Graduate Student Summit
Monday, September 28, 2020
Location
WebEx
Dress code is business professional.
DIVERSITY AT THE NEW YORK FED
The Federal Reserve Bank of New York is committed to a work environment that respects and fully values the strengths and differences of its people. Working at the New York Fed provides talented professionals the chance to grow their skills at an institution that has served a critical role in the financial system of the United States and the world for over a century. An important component of the Bank's diversity effort is our partnership with several professional non-profit organizations, including Association of Latino Professionals for America (ALPFA) – National and New York City Chapters, CUNY Scholars, INROADS, NBDC Emerging Leaders, SEO Career, National Black MBA, Prospanica and ROMBA.