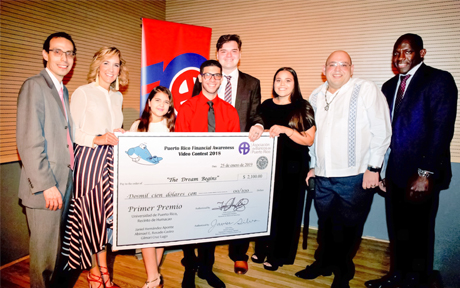 The Financial Awareness Video Contest seeks to promote financial education by challenging teams of college and university students in Puerto Rico to produce 30-second videos aimed at educating other young adults on a select topic.
2018 Competition Focuses on Entrepreneurship
The 2018 competition, sponsored by the Puerto Rico Bankers Association and the Federal Reserve Bank of New York, tasked students to create a video that covered one or more of the following aspects of entrepreneurship: how to establish a company; how to obtain credit for a company; how to export a product; and how to prepare a company to face a catastrophic event. In total, 196 students collaborated to create 37 video submissions.
The winning video was produced by students from University of Puerto Rico, Humacao Campus. The video, titled "The Dream Begins" covers the steps needed to turn the entrepreneurship dream into a reality.
The winning students received a monetary prize and a trip to New York to learn about the Federal Reserve and visit the New York Fed's Museum and Learning Center. Awards were also given for second and third place as well as the public's favorite video.
The 2019 competition will kick off this fall. For more information or questions about the Financial Awareness Video Contest in Puerto Rico, contact Javier Silva, Associate Director of Community Engagement.