January 2008 Report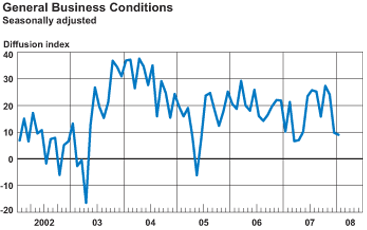 NOTE: All data have undergone an annual benchmark revision. Historical data have been revised and new seasonal factors are available through 2008.
The Empire State Manufacturing Survey indicates that conditions for New York manufacturers improved little in January. After falling in December, the general business conditions index held steady at 9.0. The new orders index fell for a third consecutive month, dropping 13 points to zero. The shipments index weakened mildly, and the unfilled orders index inched above zero. Price indexes remained elevated and were higher than in December. Employment indexes were just above zero. Future indexes conveyed a very muted outlook; many tumbled to near-record lows.
In a series of supplementary questions (see Supplemental Report tab), manufacturers were given a list of state regulations and asked to rank the ones they deemed most burdensome for their business (see table). Health insurance coverage and workers' compensation were considered the most burdensome regulations by a wide margin. When asked to what extent New York's regulations are more or less burdensome than other states' on each issue, respondents identified workers comp and state taxes as the most onerous relative to the corresponding regulations in other states. Similar responses were obtained when parallel questions were asked a year earlier, in the January 2007 survey.
Business Activity Stalls
After a significant decline last month, the general business conditions index held steady in January at 9.0, suggesting a marginal increase in activity. Twenty-eight percent of respondents reported that conditions had improved, while 19 percent reported that conditions had deteriorated. The new orders index tumbled to zero, its lowest level since mid-2005, and the shipments index retreated to 15.8. After a marked drop last month, the unfilled orders index recovered, hovering just above zero. The delivery time index dipped below zero, to -4.9, and the inventories index remained negative at -4.9.
Employment Indexes Are Weak
The prices paid index rose just slightly, to 40.2, hewing to the tight range of 30 to 40 seen over most of the past year. The prices received index rose several points to 18.3, its highest level in a year. Employment indexes showed little change in payroll activity over the month. The number of employees index fell to 2.4, its lowest level in considerably more than a year, and the average workweek index, after falling below zero last month, rose to a modest 4.9.
Expectations Falter
Future indexes tumbled. The future general business conditions index fell 15 points to 19.4, its lowest level since September 2001. The future new orders and shipments indexes exhibited similar declines. The future prices paid index remained near its elevated level of the past few months; the prices received index, though positive, dropped 11 points. The future number of employees index fell modestly. The capital expenditures index held steady at 23.2, and the technology spending index inched up 2 points, to 17.1.