March 2008 Report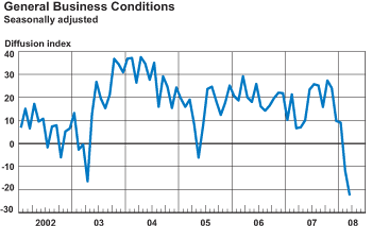 The Empire State Manufacturing Survey indicates that conditions for New York manufacturers deteriorated further in March. The general business conditions index fell another 10½ points to -22.2, a reading that eclipsed the record-low of -19.6 set in November 2001. Although the new orders index rose modestly, the shipments index edged down, and both remained in negative territory. The prices paid index rose for the third consecutive month, reaching its highest level since mid-2006, but the prices received index declined. Employment indexes remained close to zero. Future indexes were generally positive and up slightly for the month, but still well below levels of late last year. However, the future employment indexes rebounded noticeably after falling steeply in February.
In response to a series of supplementary questions on borrowing needs and credit availability (see Supplemental Report tab), manufacturers reported little change in borrowing needs, on net, over the past year and over the past three months. Those respondents who did report increased borrowing needs most commonly cited customers' lateness in paying their bills, a need to invest in capital equipment, and increases in nonlabor costs as the reasons for their higher borrowing. Separately, one in five firms reported some tightening in credit availability; the most widely cited effects of such tightening on firm behavior were a propensity to be slower in paying vendors and reduced capital investment.
Business Activity Weakens Further
The general business conditions index fell another 10.5 points in March, to -22.2, the lowest reading on record in this survey's nearly seven-year history. Forty-one percent of respondents—up from 34 percent in February—indicated that conditions had worsened over the month, while 19 percent said that conditions had improved. The new orders index, which had fallen last month to its lowest level in six and a half years, recovered modestly in March, rising 7 points to -4.7. The shipments and unfilled orders indexes were both little changed, at -5.2 and 1.1, respectively. The delivery time index rose moderately for the second month in a row, climbing to 5.6, while the inventories index slipped back into negative territory.
Pricing Pressures Persist, Employment Indexes Hold Steady
The prices paid index climbed for a third consecutive month, rising 3 points to 50.1, its highest level since mid-2006; more than half of all respondents reported paying higher prices. The prices received index, however, edged down to 15.7. Employment indexes continued to hover near zero: the index for number of employees rose from -2.1 to 4.5, while the average workweek index remained unchanged at 0.
Outlook Remains Subdued
Future indexes remained generally positive and were up from February but still well below levels of late last year. The future general business conditions index edged up 3 points, to 25.8. The future new orders, shipments, and unfilled orders indexes also moved up modestly, in tandem with the future business conditions index. The future inventories index slipped 14 points to -1.1, reversing February's increase. The future prices paid index remained elevated, at 57.3, while the future prices received index climbed 5 points to 32.6. The future index for number of employees rebounded sharply, to 33.1, after tumbling in February to 4.2, its lowest reading in more than six years. Finally, the capital expenditures index was little changed at 18.0, while the technology spending index slipped 7 points to 10.1, its lowest level in nearly three years