November 2008 Report
Survey Indicators
Seasonally Adjusted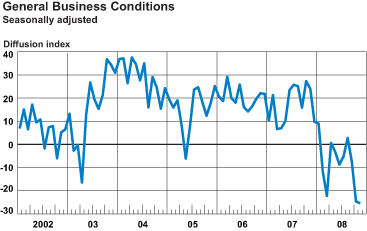 The Empire State Manufacturing Survey indicates that conditions for New York manufacturers continued to deteriorate in November. The general business conditions index slipped 0.8 point, to -25.4—a record low in this survey's seven-year history. The indexes for new orders and shipments also edged down to record lows, while the measures for unfilled orders, employment, and inventories all slipped to their lowest levels since late 2001. The prices paid index fell for the fourth straight month, and the prices received index tumbled to its lowest level in more than three years. Most of the forward-looking indexes also dropped, led by pronounced declines in the measures for expected general business conditions, shipments, capital spending, and technology spending; the last two measures fell below zero for the first time.
In a series of supplementary questions (see Supplemental Report tab), respondents were asked about their cash holdings and debt financing. Just 20 percent of respondents reported that their cash balances were higher than usual, while 30 percent reported unusually low balances—about the same proportions as in an identical poll conducted last year as part of the November 2007 survey. In both the October and November surveys this year, respondents were also asked about changes in credit availability over the past three months; in November, 38 percent of respondents reported tightening credit standards, up sharply from 25 percent in October's survey. When those reporting tightening credit were asked about its effect on their business decisions, the most widely cited effect was reduced capital investment, followed by workforce cuts, a shorter workweek, and delays in payments to vendors.
General Business Conditions Index Slips Further
The general business conditions index edged down another 0.8 point, to -25.4, a record low. Just 19 percent said that conditions had improved in November, while 44 percent reported that conditions had worsened. The new orders index slipped 1.7 points to -22.2, and the shipments index fell another 5 points to -13.9; both these measures are also at new lows, with more than 40 percent of respondents reporting declines. The unfilled orders index tumbled another 12 points to -24.1. However, the delivery time index rebounded 5 points to -4.8. The inventories index fell for the third month in a row, slumping more than 9 points to -26.5.
Price Indexes Drop Again
The prices paid index fell for the fourth consecutive month, dropping more than 11 points to 20.5, its lowest level in nearly five years. The prices received index declined nearly 15 points to 6.0. The labor market measures signaled sharp deterioration in November. The index for number of employees plummeted more than 25 points to -28.9, its lowest level since the end of 2001, and the average workweek index fell more than 15 points to -25.3, a record low.
Manufacturers Less Optimistic about the Business Outlook
The future general business conditions index slipped 11 points to 13.0, with 40 percent of respondents anticipating improvement over the next six months and 27 percent expecting worsening conditions. The future new orders index was little changed at 19.3, but the index for expected shipments fell more than 8 points to 16.8. The future inventories index, which had tumbled to a record low in October, rebounded nearly 15 points to -6.0 in November. Forward-looking price indexes fell sharply: the measure for prices paid fell 15 points to 25.3, and the index for prices received fell 33 points to 3.6. The future index for number of employees fell into negative territory for the first time since September 2001, while the future average workweek index rose marginally to -6.0. The measures for planned capital expenditures and planned technology spending both declined more than 15 points, dropping below zero for the first time since the survey's inception in mid-2001.