August 2009 Report

Survey Indicators
Seasonally Adjusted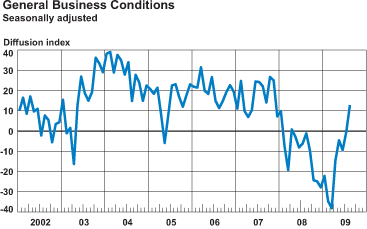 For the first time in considerably more than a year, the Empire State Manufacturing Survey indicates that conditions for New York manufacturers have improved. The general business conditions index increased 13 points, to 12.1, its highest level since November of 2007. Although the inventories index remained well below zero, the new orders and shipments indexes rose to their highest levels in many months. The prices paid index was positive, while the prices received index continued to be negative. Employment indexes were much improved from their recent low levels, although they remained below zero. Future indexes generally rose from last month and conveyed optimism about the six-month outlook; the capital expenditures index rose to its highest level in over a year.
In a series of supplementary questions (see Supplemental Report tab), manufacturers were asked to assess the degree to which certain business issues posed problems for their firms; the same questions had been asked in August 2008 and in earlier surveys. In the current survey, the cost of employee benefits was the issue most frequently identified as a major problem. A distant second was workers' compensation, which was cited as a major problem somewhat more often than in last year's survey, but less often than in 2007. Last year's most widely cited concern, the cost of resources, emerged as much less of a problem in this year's survey, ranking third.
Manufacturers See Improving Conditions
In August, after more than a year of negative readings, the general business conditions index rose into positive territory and reached its highest level since November 2007—a clear indication that, on balance, business conditions had improved for New York State manufacturers. Thirty percent of respondents said that conditions had improved over the month, while 18 percent said that conditions had deteriorated. The new orders index rose 8 points to 13.4, and the shipments index rose 3 points to 14.1. Both of these indexes were at their highest levels in more than a year. The unfilled orders index rose slightly, to -9.6. The delivery time index, at -10.6, hovered near last month's level. The inventories index rose 14 points from a very low level in July, but remained well below zero at -22.3.
Employment Indexes, though Negative, Rise
After turning positive in July, the prices paid index rose a few points to 13.8. The prices received index remained below zero, falling 4 points from last month, to -12.8. Employment indexes were much improved, although they remained negative. Posting a sixth consecutive monthly increase, the index for number of employees rose 13 points to -7.5, its highest level since October of last year. Similarly, the average workweek index climbed 13 points to -6.4.
Conditions Expected to Improve Further
Future indexes rose significantly in August, conveying an expectation that conditions would continue to improve in the months ahead. The future general business conditions index advanced 14 points to 48.2, with 62 percent of respondents expecting conditions to be better in six months. The future new orders index rose 15 points to 46.0, and the future shipments index rose 4 points to 40.5. The future prices paid index climbed 6 points to 31.9, its highest level since late last year, while the future prices received index rose 11 points to enter positive territory for the first time since January. Future employment indexes were positive and higher than in July, suggesting that employment is expected to rise. The capital expenditures index advanced 16 points to 18.1, its highest level in over a year, and the technology spending index rose 14 points to 14.9.