May 2010 Report

Survey Indicators
Seasonally Adjusted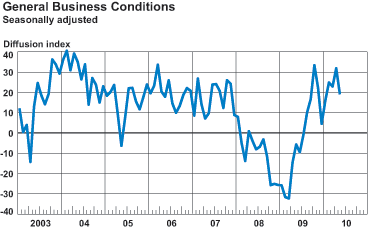 The Empire State Manufacturing Survey indicates that conditions for New York manufacturers continued to improve for a tenth consecutive month in May, albeit at a slower pace than in April. The general business conditions index fell 13 points, to 19.1. Similarly, the new orders and shipments indexes also moved lower but remained at positive levels. The inventories index dropped back to a level near zero after rising into positive territory in March and April. The prices paid index continued to climb, reaching its highest level of the year, while the prices received index was little changed and positive. The index for number of employees rose for a fifth consecutive month, reaching its highest level since 2004. Future indexes suggest that activity is expected to expand further in the months ahead, but the level of optimism was noticeably lower in May than in recent months.
In response to a series of supplementary questions on prices, manufacturers estimated that the prices they paid for inputs rose by a little less than 6 percent, on average, over the past twelve months, while the median increase was a more subdued 3.0 percent (see Supplemental Reports tab). (The median and average increases differed so sharply because a few respondents reported price increases of 25 percent or more; these large increases boosted the average but had no effect on the median.) The median increase anticipated for the next twelve months was 4.0 percent, while the average expected rise was 4.6 percent. In assessing past changes in their selling prices, firms reported an average price increase of 2.9 percent and a median increase of 2.0 percent. Looking ahead to the next twelve months, firms predicted a 2.9 percent average increase in selling prices and a 3.0 percent median increase. Most of the price increases reported in this month's survey were moderately higher than those reported in an identical survey conducted in May 2009.
Business Conditions Improve at a Slower Pace
The general business conditions index retreated from its relatively high April level, falling 13 points to 19.1. This reading—lower but still positive—marked the tenth consecutive month of improvement in business conditions. The drop in the index suggests that the pace of growth slowed in May, after accelerating for much of the year. The new orders index was also lower, falling 15 points to 14.3. The shipments index tumbled 21 points to 11.3. The unfilled orders index, at -7.9, was below zero for a second consecutive month. The delivery time index fell from a positive reading last month to -6.6, suggesting that delivery times have quickened. The inventories index dipped 10 points to 1.3, a sign that inventory levels remained relatively steady after growing in March and April.
Pricing Pressures Remain; Employment Grows Further
Pricing pressures continued in May. The prices paid index inched up 3 points from last month's elevated level, reaching 44.7, with 46 percent of respondents reporting that prices had risen over the month, and 1 percent reporting that prices had fallen. The prices received index, at 5.3, remained near the levels of the past several months. The index for number of employees climbed to 22.4, with nearly a third of respondents increasing employment levels in May. The average workweek index fell to zero, following four months of positive readings.
Six-Month Outlook Remains Favorable, but Level of Optimism Falls
The future index readings were somewhat lower than in April but showed that New York State manufacturers expect conditions to improve further over the next six months. The future general business conditions index fell from a lofty 55.7 last month to 42.1. The future new orders and shipments indexes also declined, while the future unfilled orders index rose from zero last month to 18.4, a level more in line with readings prior to April. The future inventories index fell below zero for the first time since October of last year, suggesting that inventory levels were not expected to rise in the coming months. The future prices paid index was high and little changed, while the future prices received index rose several points, to 23.7. The index for expected number of employees held at a strong 29.0 while the future average workweek index was 5.3. The capital expenditures index advanced several points to 38.2, a multiyear high, and the technology spending index inched up to 21.0.