June 2010 Report

Survey Indicators
Seasonally Adjusted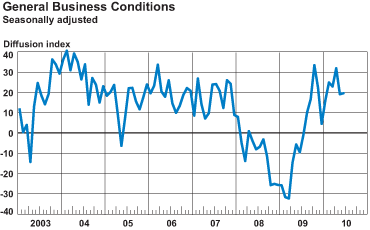 The Empire State Manufacturing Survey indicates that conditions for New York manufacturers improved in June. The general business conditions index edged up from its May level to 19.6, extending its string of positive readings to eleven months. The new orders and shipments indexes were also positive and higher than their May levels. The inventories index remained near zero for a second straight month, indicating that inventory levels were little changed. The prices paid index fell 17½ points to 27.2, while the prices received index held steady at 4.9. The index for number of employees was positive, but fell 10 points, while the average workweek index climbed to 8.6. Future indexes were well above zero, but the readings, like last month's, fell short of the relatively high levels recorded earlier this year.
In a series of supplementary questions, manufacturers were asked about their capital spending plans for 2010 relative to their actual spending for 2009, both overall and for a few broad categories of capital (see Supplemental Reports tab). In the current survey, nearly twice as many responding firms reported increases (46 percent) as reductions (25 percent) in overall capital spending in 2010—a marked contrast with the results of an identical survey conducted last June, which showed far more respondents reporting decreases (56 percent) than increases (20 percent). As for specific categories of investment, respondents, on balance, plan to raise spending on software, computers (hardware), and non-computer equipment, but to cut spending on structures.
Business Conditions Index Positive and Steady
In June, the general business conditions index inched up to 19.6, slightly above its May reading of 19.1. The index has now been above zero for eleven consecutive months, indicating an ongoing expansion in business activity. The new orders index rose modestly, to 17.5, and the shipments index climbed to 19.7. The unfilled orders index was negative for a third consecutive month, at -1.2. The delivery time index rose more than 16 points to 9.9, suggesting that delivery times lengthened in June. The inventories index remained near zero after posting positive readings in March and April, indicating that inventory levels have stabilized.
Pace of Input Price Increases Begins to Slow
While remaining well above zero, the prices paid index fell significantly, from 44.7 to 27.2—its lowest level so far in 2010. The decline suggests that although input prices rose again in June, the pace of price increases slowed. By contrast, the prices received index, at 4.9, was little changed, a sign that selling prices remained relatively stable. Employment indexes were positive in June, indicating that employment levels rose over the month. The index for number of employees slipped 10 points, to 12.4, and the average workweek index climbed from zero last month to 8.6.
Outlook Remains Favorable
Future indexes remained firmly in positive territory, although the readings, like last month's, suggest that respondents' optimism had fallen slightly from the relatively high levels reached in prior months. The future general business conditions index declined for a second consecutive month, edging down a little more than a point to 40.7. The future new orders and shipments indexes were also little changed at similar levels. The future inventories index was negative but virtually unchanged from last month. The future prices paid index fell 4 points to 42.0, and the future prices received index advanced to 28.4, suggesting that some easing in pricing pressures is expected in the months ahead. The index for expected number of employees held steady at 28.4. The capital expenditures index fell from last month's very high level, but remained well above zero, at 28.4. The technology spending index also retreated to a lower positive level, reaching 13.6.