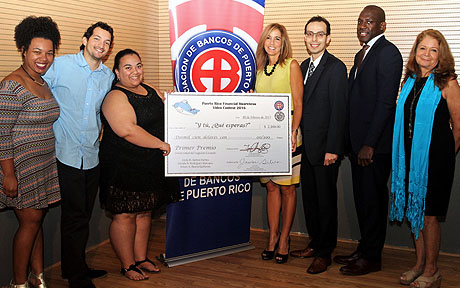 The Financial Awareness Video Contest seeks to promote knowledge of economics, finance and business by challenging teams of college and university students in Puerto Rico to produce 30-second videos aimed at educating other young adults on a select topic.
2016 Contest Puts the Spotlight on Small Business
The 2016 competition, sponsored by the Puerto Rico Bankers Association and Federal Reserve Bank of New York, focused on small business. Students were tasked with creating a video that covered one or more of the following topics: how to start a small business; how to finance a small business; and how to export. Sixteen videos by 102 students from eight universities.
The winning video was produced by students from the Universidad del Sagrado Corazón. The video, titled "Y tu, Que esperas?," or "And you, what are you waiting for?," provides tips on how to start and finance a small business.
As part of their prize, the winning team will receive career advice and a trip to New York to learn about the Federal Reserve and visit the New York Fed's Museum and Learning Center.
For more information or questions about the Financial Awareness Video Contest in Puerto Rico, contact Associate Director of Community Engagement Javier Silva.